Fast and safe with XKANTOR
This feature allows users to withdraw their funds in express mode. Express mode in XKANTOR means execution of payment D+0, i.e. on the day of ordering the transaction, however, it should be remembered that in order for the transfer to be executed in express mode, the instruction to execute this transaction must be received before the cut-off time for a specific currency. The execution of such an order usually takes about 15 minutes. This service has a worldwide reach and covers all accounts in Poland and abroad. More information on cut-off times, booking times and costs of express transfers can be found in the Table of Fees and Commissions
---
What is the difference between a regular transfer and an express transfer?
Express transfers ordered on working days usually take about 15 minutes. Standard transfers, depending on the bank and the place where the funds are transferred, take from one to even three business days. Please also note that the last attempt to make a regular transfer will be made at 5:00 pm (CET – Central European Time) on the day. On business days after 17:00 (CET) and on other days, regardless of the time, the order will be processed on the next business day.
---
How the Express Transfer Service works
Express withdrawals
To be able to use the express withdrawal service, you must withdraw funds in the selected currency to the indicated bank account by selecting the express transfer option. This service is additionally payable. Prices vary depending on the currency and bank in which the customer has an external account. All information on the costs of the express transfer service can be found in the Table of Fees and Commissions
Location of the Express Transfers function in the customer panel
To use the Express Transfer service, you must log in to your account
Then go to the payout subpage, click on "Withdraw" on the main page or using the side navigation (menu)
Select the currency of the withdrawal and indicate the bank account. Then enter the amount and title of the transfer.
The express transfer option is in step 3. To use it, just select the desire to use the express mode. Ready!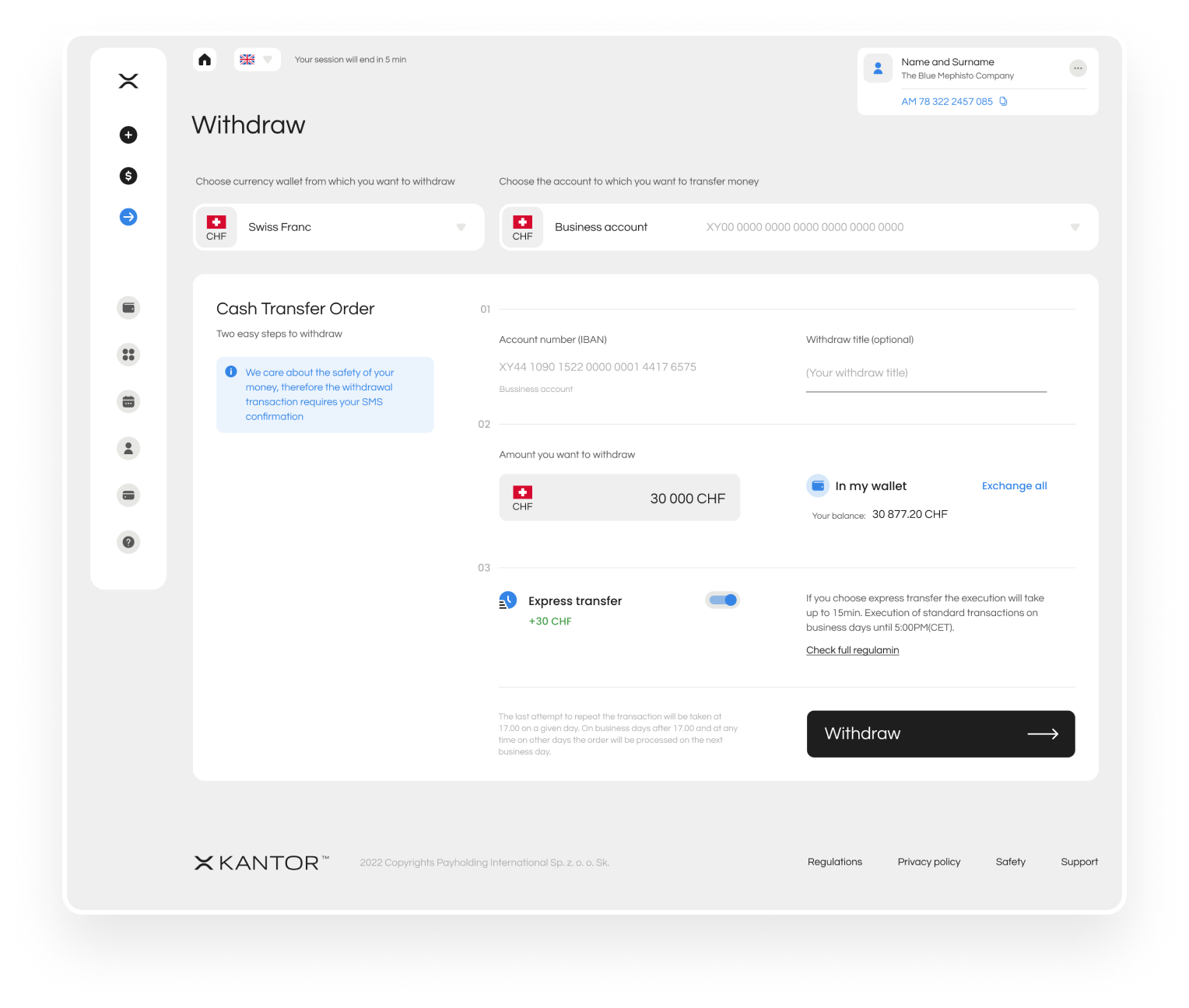 ---
Additional information on Express Transfers.
We invite you to familiarize yourself with the Table of Fees and Commissions
---
Who is the Express Transfer service intended for?
All users of the XKANTOR platform can use the express transfer service. It is most often used by those who need to quickly, efficiently and safely transfer funds to an external account.
Pros of the Express Transfer service
Fast and efficient transfer execution
Security of funds during the transfer